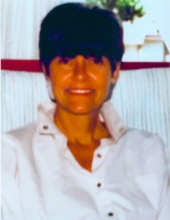 Obituary for Sally Jane Moore
LaVale, MD - Sally Jane (Holbert) Moore, 82, of LaVale, MD, passed away on Tuesday, January 23, 2018, at the Western Maryland Regional Medical Center as a result of a fall at home.  

Born June 5, 1935, in Fairmont, WV, Mrs. Moore was the daughter of the late Carroll Nixon Holbert and Helen Irene (Jolliffe) Holbert. She was also preceded in death by her sister: Suzanne West and her brother: James Holbert. 

A homemaker, Sally was a graduate of Shinnston High School. She devoted her life to her family. She loved dogs with a passion and she loved to spend time in her rock garden lawn. No stone was too large or small for her to move. 

Sally is survived by her husband of 65 years, Robert C Moore. She was his "Angel on the Bridge". She is also survived by two daughters: Janey Moore, Frostburg, MD; and Juley Moberg and husband, Dr. Paul, Media, PA; four grandchildren: Dr. Benjamin Norris and wife, Teresa, Frostburg, MD; Natalie Norris, Arlington, VA; Dr. Emily Moberg, New Haven, CT; and Madelyn Moberg, Media, PA., as well as the loves of her life, her great granddaughters: Ivy Rose and Zana Mae Norris; as well as numerous nieces and nephews. 

The family requests that memorial contributions be made in her name to the Allegany County Animal Shelter, Post Office Box #566, Cumberland, MD 21501. 

A celebration of life service will be held at a later date.