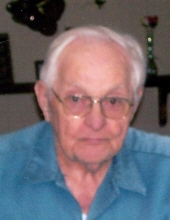 Obituary for Charles H Merritt
Cumberland, MD – Charles H. Merritt, 100, of Cumberland, MD, passed away Friday, September 29, 2017 at the Western Maryland Regional Medical Center.

Born November 30, 1916, in Romney, WV, Mr. Merritt was the son of the late George Merritt and Martha Anna Lee (Ritchie) Merritt. He was preceded in death by his brothers: Jesse and George Merritt; his sisters: Kathern Baker, Louella Wagner and Francis Walters.

Charles was a wonderful father, grandfather, and great-grandfather. He was a United States Army Veterans and retired from CSX Railroad. He enjoyed fishing, hunting and spending time with his family. He was a lifelong member of the District 16 Fire Company where he held several offices.

Charles is survived by his wife of 76 years, Myrtle (Robinette) Merritt; his sons: Glendon Merritt and wife Mary; Leonard Merritt and wife Virginia; his daughter: Sondra Garland; his grandchildren: Kirk Whorton and wife Dorothy, Roxann Frye, Lisa Humbertson and husband Chris; Stacy Baker and husband Michael, Eric Joe and wife Margi; and Kimberly DellaPuca and husband Chris; his great-grandchildren: Donovan Martin and wife Jessica, Savannah Humbertson, Anthony Whorton and wife Brittney; Avery Whorton and significant other, Kendra; Jones Baker and Fox Baker, and Derick, Jessica and Jeremy Joe.

There will be no services.

The family would like to thank the Veterans' Administration Home Care for taking care of Charles and the nurses of high level care for all their compassion and concern.

Adams Family Funeral Home, P.A. (www.Adamsfamilyfuneralhome.com) 404 Decatur Street, Cumberland, MD, is in charge of arrangements.
Events