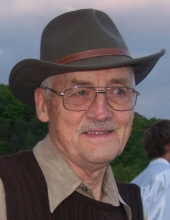 Obituary for Bernard Linwood Wentling
Oldtown, MD – Bernard Linwood Wentling, 84, of Oldtown, MD, passed away Saturday, September 30, 2017 at Frostburg Village Nursing Home.

Born September 30, 1933, in Cumberland, MD, Mr. Wentling was the son of the late Louis Llewellyn Wentling and Gertrude Mary (Stegmaier) Wentling. He was also preceded in death by a brother: Lawrence Wentling.

Bernard attended Fort Hill High School and was a Veteran of the United States Air Force. He retired from the Allegany County Roads Department as a District Supervisor. After retirement, he drove a school bus for Allegany County Public Schools. He enjoyed playing Bluegrass Music with his special friend, Bud Mallow and friends. He would spend hours coin hunting and metal detecting. Bernard was known in the surrounding areas for his excellent fiddle playing, exceptional wood working, and extreme intelligence. Many said they wouldn't be playing blue grass if it weren't for him. He made many fiddles, a few mandolins, and repaired lots of instruments as well as made and repaired furniture during his lifetime. He added a special touch to some of the fiddles he made by carving the scroll area into an Indian, a Lion, a Ram, and his own likeness. He was a devoted husband, father, grandfather, great grandfather, friend, and mentor. Not only did his family know he could do anything but many others said he was the smartest man they knew and there wasn't anything he couldn't figure out or do. He will be sadly missed by all who knew him. To all those who heard him play and/or played blue grass with him, keep playing so he will be remembered. As the music plays on so will his memory.

Bernard is survived by his wife of 57 years, Barbara Wentling; a daughter: Lisa Lyons and husband Charlie; a son: Steven Wentling and wife Sharon; a brother: Francis Wentling and wife Carol; a sister: Agnes Slider; his grandchildren: Justin Dolly and wife Angela, Garrett Dolly, Matthew Wentling, Sarah Wentling, and Leslie McCutcheon and husband Brian; his great-grandchildren: Lilly Lybrand, Bryson Troutman, Olivia Dolly, Maverick McCutcheon, and two on the way; as well as numerous nieces and nephews.

Friends will be received at the Adams Family Funeral Home, P.A., 404 Decatur Street, Cumberland, MD, (www.AdamsFamilyFuneralHome.com) on Monday, October 2, 2017 from 2:00 P.M. to 4:00 P.M. and from 7:00 P.M. to 9:00 P.M.

A funeral service will be conducted at the funeral home on Tuesday, October 3, 2017 at 11:00 A.M. with Reverend George Loar officiating.

Interment will be in Glendale Cemetery.

Military honors will be accorded at the cemetery by the Post #13 Veterans Honor Guard.

His family wishes to thank the Frostburg Village Nursing Home, Dementia Wing, for the care and compassion they gave him during the month he stayed there.
Goodbye for now Dad, Pap - Happy Birthday -, we will see you in heaven someday and hear that sweet sound of your fiddle playing.
Previous Events
Visitation
Adams Family Funeral Home
404 Decatur Street
Cumberland, MD 21502
Visitation
Adams Family Funeral Home
404 Decatur Street
Cumberland, MD 21502
Funeral Service
Adams Family Funeral Home
404 Decatur Street
Cumberland, MD 21502