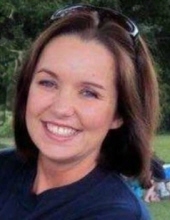 Obituary for Arika Elaine McMillan
Cumberland, MD – Arika Elaine McMillan, 39, of Cumberland, MD, passed away Thursday, August 30, 2018, at her home. 

Born July 26, 1979, in Cumberland, MD, Ms. McMillan was the daughter of Randy Harmon Hansford, Cumberland, MD, and Charlene Elaine (Oates) Banks, Cumberland, MD. She was also preceded in death by a great grandmother: Virginia Grapes; and a close friend: Tessia Ranker. 

A graduate of Fort Hill High School, Class of 1997, Arika received her CNA Certificate from Allegany College of Maryland and was an employee of Friends Aware for over 15 years. She and her former husband were recognized as "Foster Parents of the Year" from the Maryland Department of Social Services.  Arika loved her family, her children, her dogs, and enjoyed floating on the river. 

Besides her parents, Arika is survived by her daughters: Alivia Miller and husband, Dakota; and Patience McMillan; her sons: Jordan McMillan; Isaac Case; Cordell McMillan; Kaden McMillan, and Lukas McMillan: and her stepdaughter: Kayla McMillan. She also leaves behind her sister: Jessica Serafin; her brother: Randy Serafin; her nephew: Kelson Serafin; her grandchildren: Bentley McMillan and Morgan McFarland: and her best friend: Gwinn Spitzer. 

Services will be private.
Events