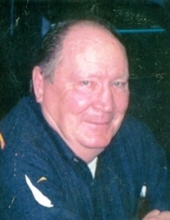 Obituary for Benny Lee Summers
Ridgeley, WV – Benny Lee Summers, 80, of Ridgeley, WV, left this world surrounded by his family and into the arms of our Lord on Friday, July 27, 2018, at his home. 

Born October 7, 1937, in Ridgeley, WV, Mr. Summers was the son of the late Earl Lawrence Summers and Mary Myrtle (Jacobs) Summers. He was also preceded in death by his wife of 58 years: Clara Jane (Hillegas) Summers, January 23, 2017; his sister: Kathleen Confer; his grandson: Alexander Hyser; his great grandson: Dylan Thomas Knotts; and his son-in-law: Stephen Caroll Knotts. 

Dad was a great, hardworking man and retired from CSX Railroad as a conductor and brakeman for 38 years. He was gone for days and weeks at a time to provide for his family.  We always looked forward to his return when we were younger for he may have a candy bar hidden in his lunch box.  Dad was a United States Army/Air Corps Veteran.  He loved trout fishing and took his vacation every April to visit Smoke Hole caverns with his sons, grandson, and friends.  Many memories were made and skills learned in the old small cozy cabin.  Once his boys mastered trout fishing, it was time for him to lay back and enjoy some beer, although mom and his daughters would all visit on the last day to surprise him.  Another all time favorite was deer hunting, but his biggest joy was watching his sons take their first buck and the enjoyment of the camaraderie of being with his family.  Dad's nickname was "Buck" and he gave all his children and grandchildren nicknames as well.  The only name you had to worry about was hearing your full given name.  If you have ever watched John Wayne and Jimmy Stewart movies, Dad was on in the same.  He loved watching western movies later in his years.  Dad also started attending Holy Cross Methodist church before he got too ill.  But most of all, Dad loved God and his family.  We were all blessed to learn many valuable lessons from him. 

Benny is survived by his eight children: Debra Knotts, Carpendale, WV; Sharon (Francis) Summers and Fred Francis, Morgantown, WV; Earl Summers, Morgantown, WV; Sandra Krepps of Pennsylvania; Lee Summers, Morgantown, WV; Bennie Summers and wife, Michelle, Fountain, WV; William Summers and Deborah Smith, Carpendale, WV; and Jessica Beckman and husband, John, Cumberland, MD. He also leaves behind his brothers: James Summers and wife, Patricia; and Kenneth Summers and wife, Mary; his sisters: Darlene Hall and husband, Roger; and Sandra Holmes; as well as 27 grandchildren; 22 great grandchildren with one on the way; as well as many other family members. 

Friends will be received at the Adams Family Funeral Home, P.A., 404 Decatur Street, Cumberland, MD, on Tuesday, July 31, 2018, from 12:00 P.M. to 2:00 P.M. A service will follow at 2:00 P.M., with Pastor Dale Smith officiating. 

Interment will be in Glendale Cemetery at a later date. 

Military honor will be accorded at the funeral home by the Post #13 Veterans Honor Guard.
Previous Events
Visitation
Adams Family Funeral Home
404 Decatur Street
Cumberland, MD 21502
Funeral Service
Adams Family Funeral Home
404 Decatur Street
Cumberland, MD 21502