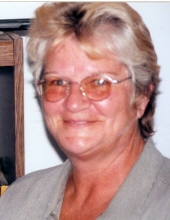 Obituary for Genevieve "Jen" Eileen Driver
Beans Cove, PA –Genevieve "Jen" Eileen Driver, 70, of Beans Cove, PA, passed away Friday, July 6, 2018 at the Western Maryland Regional Medical Center. 

Born October 4, 1947, in Cumberland, MD, Mrs. Driver was the daughter of the late Francis Anthony Zaladonis and Bernadette "Babe" Regina (McElfish) Zaladonis. She was preceded in death by a brother:  Richard Allen Halle; a sister:  Rosalie Ann Logue; and a great grandson:  Levi Joshua Driver. 

Jen retired from the Bedford Area Agency of Aging and was a member of Seven Dolors Catholic Church.  

Jen is survived by her husband of 51 years, Daniel R. Driver; her daughters: Donna Shipley and husband Doug; Pamela Emerick and friend Mike; her sons:  Dennis Driver and special friend, Amy; and Michael Driver and special friend, Nicole; her brothers:  William Zaladonis and wife Nancy; and David Zaladonis and wife Jeanne; her sister:  Alice Marie Johnson; her grandchildren: Branson and Jess Shipley, Kayla and Ryan Emerick, Dawson and Carson Driver, Bailey Miller, Samantha and Jorden Driver, and Brittany and Emily Driver; three great grandchildren:  Mya, Peyton, and Declan; as well as Dawn and Wade, and other numerous nieces, nephews and cousins she loved dearly. 

Friends will be received at the Adams Family Funeral Home, P.A., 404 Decatur Street, Cumberland, MD, (www.AdamsFamilyFuneralHome.com) on Monday, July 9, 2018, from 2:00 P.M. to 4:00 P.M. and from 6:00 P.M. to 8:00 P.M. 

A Mass of Christian Burial will be held at Seven Dolors Catholic Church on Tuesday, July 10, 2018 at 11:00 A.M. with Father Derek Fairman as celebrant. 

Interment will be in Seven Dolors Catholic Church Cemetery.