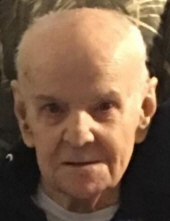 Obituary for George Washington Miers, Sr.
Ridgeley, WV- George Washington Miers, Sr., 93, of Ridgeley, WV, passed away on Sunday, June 24, 2018 at the Western Maryland Regional Medical Center. 

Born September 22, 1924 in Keyser, WV, Mr. Miers was the son of the late Claude Grahm Miers and Julia Mae (VanPelt) Miers. He was also preceded in death by a son:  George "Lucky" W. Miers, Jr.; three sisters:  Margaret Kohne, Francis Shepherd, and Reva Morington; and was the last surviving member of his immediate family. 

A Veteran of the United States Army, George retired from Westvaco and loved to hunt and fish. 

George is survived by his daughter-in-law and caregiver: Susie Miers; his granddaughter, who he loved with all his heart:  Summer Miers; a grandson:  Shane Shaw; his great-granddaughters:  Abby and Emily; a daughter:  Shawna Lewis and husband James and their children:  James Adam and Logan Tyler Lewis. 

Services will be private. 

Susie would like to thank her parents, Thomas and Ulla Shaw for all the help and care they provided to George. 

Adams Family Funeral Home, P.A., 404 Decatur Street, Cumberland, MD (www.adamsfamilyfuneralhome.com) is in charge of arrangements.