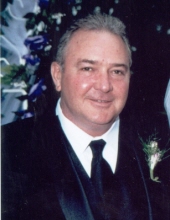 Obituary for Louis Edgar Hartung, Jr.
Cumberland, MD – Louis Edgar Hartung, Jr., 72, of Cumberland, MD, went to be with the Lord on Wednesday, May 9, 2018 at Ruby Memorial Hospital. 

Born December 24, 1945, in Cumberland, MD, Mr. Hartung was the son of the late Louis E. Hartung, Sr., and Eloise (Weaver) Hartung. He was also preceded in death by his sister:  Janet Cameron. 

A graduate of Allegany High School, Louis served during Vietnam with the 357th Tactical Fighter Squadron at Takhli Royal Air Force Base as a jet aircraft mechanic.  He was employed by the Kelly Springfield Tire Company, the Lucky Strike Mine in Colorado, and completed his working years as a long haul driver.  He was a dedicated husband and father.  In his spare time, he enjoyed being with family and outdoors.  Many mornings he would be found at the Fort Hill Rifle Range or hunting and fishing.  He always found time to help his neighbors and friends. 

Louis is survived by his wife of 50 years, Wanda Illene (Arbogast) Hartung; two sons: Louis E. Hartung, III, and wife, Peggy; and Troy M. Hartung and wife, Karen; three grandchildren, who were his pride and joy: Michael, Matthew and Meghan.  He is also survived by a sister:  Patricia England; his brothers:  Martin Hartung and wife, Cheryl; and Brian Hartung and wife, Laurie; as well as several nieces and nephews.  He was especially close to Kristen (England) Pruitt and Kayla Hartung. 

Services will be private and Louis will be laid to rest at Maryland Veterans Cemetery at Rocky Gap.
Events