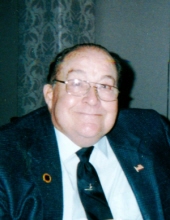 Obituary for Charles Leonard Chalkley
Cumberland, MD – Charles Leonard Chalkley, 89, of Cumberland, MD, passed away Wednesday, April 11, 2018, at Ruby Memorial Hospital, Morgantown, WV. 

Born April 19, 1928, in Cumberland, MD, Mr. Chalkley was the son of the late Charles Henry and Lillian Chalkley.  

A graduate of Fort Hill High School, Class of 1948, Charles retired from CSX Railroad and was previously employed at the Celanese Fibers Corporation of America. He was a lifetime member of the Living Stone Church of the Brethren.  Charles was a 50-year member of the Queen City Lodge #131 A.F.&A.M.  He was also a member of the Scottish Rite, the Ali Ghan Shrine Club, and the Railroad Unit.  He loved playing the organ and established loving friendships in the Masonic brotherhood. 

Charles is survived by his wife of 67 years, who in married in 1951, Rosella Marie (Lewis) Chalkley; his niece: Pamela Shook, Cumberland, MD; his great niece: Tamara Sue (Shook) Lupis; and his great nephew: Craig Aaron Shook, both of Ridgeley, WV. 

A Masonic graveside service will be conducted at Sunset Memorial Park on Friday, April 13, 2018, at 1:00 P.M. 

The family would like to extend a special thank you to the neighbors and friends who have been wonderful, the staff at the Western Maryland Regional Medical Center and Ruby Memorial Hospital, for their care and compassion.
Previous Events
Graveside Service
Sunset Memorial Park
13800 Bedford Road, NE
Cumberland, MD 21502