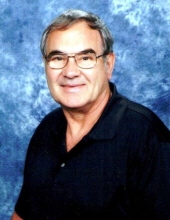 Obituary for Harry Lawrence Countryman
LaVale, MD – Harry Lawrence Countryman, 71, of LaVale passed away peacefully surrounded by family at his home on Tuesday, April 10, 2018. 

Born on June 30, 1946, in Garrett, PA, he was the son of the late Harry L. Countryman and Louise M. (Bittner) Countryman. He was also preceded in death by his brother, Kenneth L. Countryman. 

Harry is survived by his wife, Randi Jean Countryman, whom he was married to for 42 years; his daughter, Susan R. Porter and husband, Dan, LaVale; and his son, Harry L. Countryman III "Trey" and fiancé, Andrea, and her children, David, Jacob, and Sarah, Evans, GA. He also leaves behind his grandchildren, Drew M. Porter, Tampa, FL; and Brooke C. Fuzie and husband Brett, Morgantown, WV; and his nephew, Alex Countryman and wife, Christine and daughter, Lily, Berlin, PA. 

Mr. Countryman was a retired schoolteacher with the Allegany County Board Of Education for 41 years. He taught at Beall High School and coached both baseball and football there.  Mr. Countryman ended his teaching career at Washington Middle School.  He was a long time member of Fraternal Order of Police, Frostburg Sons of The American Legion, Loyal Order of Moose Frostburg MD Lodge 348, and Elks Frostburg #0470.   

Harry was an active member of the LaVale United Methodist Church. He served on various committees, ushering, and serving behind the scenes, building and creating props and scenery for church productions and vacation bible school.  He enjoyed being a part of the LaVale United Methodist Men's Group, which prepared meals for Camp Hope and other church functions.  He served as Assistant Scout Master with the Boy Scouts of America at LaVale United Methodist Church. 

His most cherished times were being with his family. Taking the annual trip to Outer Banks, NC, and camping summer holiday weekends at Rocky Gap were among the highlights.  Harry enjoyed bowling, golf, fishing, and hunting. 

Harry's family would like to convey their sincere appreciation for the prayers and cards from friends and family during Harry's battle with cancer. They would also like to express their gratitude to Dr. Yin and the kind staff at Schwab Family Cancer Center and Hospice Services of the WMHS. 

At Mr. Countryman's request, he will be cremated and a private family gathering will be held. 

Memorial contributions may be made to either LaVale United Methodist Church, 565 National Highway, LaVale, MD 21502; or, the Schwab Family Cancer Center, 12500 Willowbrook Road, Cumberland, MD 21502,Attention: Julie, Hardy.
Events