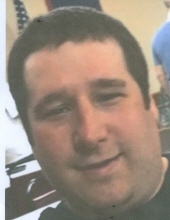 Obituary for Jesse Emory Davis
Cumberland, MD – Jesse Emory Davis, 36, of Cumberland, MD, passed away on Thursday, March 29, 2018 at his home. 

Born January 13, 1982 in Cumberland, MD, Jesse was the son of James "Lou" Davis and life partner, Joyce Hose; and Karen (Gilmore) Davis and fiancé John Ludeman; all of Cumberland, MD.  He was also preceded in death by a brother:  Nathan Andrew Hose. 

Jesse attended Fort Hill High School and was a valued employee of Compass Group USA, Inc. at Frostburg State University. Jesse's passions were cooking and darts.  He was a perennial dart champion, throwing both locally and regionally.  He had a great time at every tourney in Altoona he could get into.  He qualified to compete in the national Bull Shooter Tournament in Chicago this year.  Jesse energized the annual local Toys for Tots Dart Tournament.  Jesse was an accomplished chef in area upscale restaurants.  At home, the aroma of his magic work of onions and garlic, his signature potpourri permeated the air, always satisfying the palates of family, friends and customers.   

Besides his parents, Jesse is survived by his siblings: Erika Brooke Davis, Beaverton, OR; Stephanie Johnson and husband Darren, Bethesda, MD; Tamatha Hose, Santa Cruz, CA; and Matthew Hose, Cumberland, MD;  his maternal grandparents: George Gilmore and wife Cathy; and Anna Lou Gilmore; his aunts:  Brenda Chamberlain, Sandy Robinette, Colleen (Gilmore) Calcamp and husband Jake, and Kathie (Gilmore) Shriver; his uncles:  Joe Gilmore and wife Carol, and Andy Gilmore and wife Karen; as well as numerous nieces, nephews and cousins. 

A celebration of life service will be held at the Goodfellowship Club, 225 Virginia Avenue, Cumberland, MD, on Wednesday, April 4, 2018 at 7:00 P.M. 

In lieu of flowers, the family requests that memorial contributions be made to the funeral home to help defray funeral expenses.

Jesse's family would like to convey their sincere appreciation to the kind people at Adams Family Funeral Home for all their compassion and help during this time.
Previous Events
Celebration of Life
Goodfellowship Club
225 Virginia Avenue
Cumberland, Maryland 21502