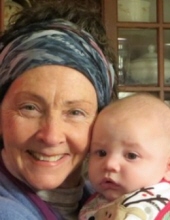 Obituary for Cecilia Maier Gilchrest
Cumberland, MD – Cecilia Maier Gilchrest, 73, of Cumberland, MD, passed away Saturday, March 3, 2018. 

Born March 23, 1944, in Washington, DC, Mrs. Gilchrest was the daughter of the late Louis Henry Maier and Doris May (Murphy) Maier.

Cecilia retired from a long career in the Massachusetts Government in 1997. In her retirement, she pursued her dream to help others find their best health and became an Ayervedic consultant and educator under the business named Red Hawk Ayurveda. 

Cecilia is survived by her children: Monique Papazian Allen and husband, Christopher Whitcomb Allen; and Henri-Christian Papazian. She also leaves behind six siblings; Linda Maier; Susan Bowler and husband, Daniel; Henry Maier and wife, Nancy; Melanie Durantaye and husband, Frank; Deborah Maier; and Regina Maier-Manuel.  Cecilia is also survived by her grandchildren: Maranda Murphy Allen and Bennett Whitcomb Allen; her step grandchild; JoAnna Hermanns; her nieces; Samantha, Melinda, Brandy, Staci, Clare, Jennifer, and Emily: and her nephews: Buddy, Matthew, Shane, Louis, Daniel, Jean-Luc, Benjamin, Dylan, and Monty; and her Goddaughter; Sophay Chheou. 

Cecilia was an avid reader and lover of literature and language. She reveled in the beauty and wonder of nature, spending hours in her garden and caring for her indoor plants, on hikes on Warrior Mountain and around Rocky Gap, and walking the beautiful streets of Cumberland.  

Cecilia loved to welcome every new member of her large extended family into the tribe. Her love of babies and the freshness and potential of new life was palpable. She was a friend to all who met her. A patient listener and an eager support. She loved people and put her energy into the work of relationships. She remembered special days and was known for her letter and card writing. 

An evening celebration of Cecilia's life will be held on Thursday, March 22, 2018, at Murley's Branch United Methodist Church, located at 18700 Williams Road, SE, Flintstone, MD 21530. Celebration will include a potluck meal to honor Cecilia's love of "down-home" cooking and gatherings.  For final details and time of event and to participate in the potluck donations, please contact Henry & Nancy Maier at NancyEBM@gmail.com. 

There will be a celebration held in the Baltimore area on March, 24th and one held in the Boston area on March 18th.  For further details, email Monique Allen at MoccaDot@me.com.