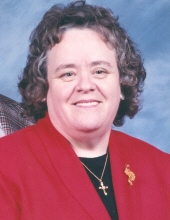 Obituary for Delane "Mammy" Ellen Donaldson
Cumberland, MD- Delane "Mammy" Ellen Donaldson, 72, of Cumberland, MD, passed away peacefully on Monday, February 26, 2018 at her home. 

Born June 6, 1945, Gilmer Co., WV, Mrs. Donaldson was the daughter of the late Hubert Hefner and Madeline Blanche (Messenger) Hefner Masters. She was also preceded in death by her husband of 50 years, James "Pap" Leonard Donaldson; a brother: Hubert Hefner, Jr; a twin sister: Delores Hefner; a grandson: Joshua Donaldson; and a brother-in-law: Ed Marsh. 

Delane was a graduate of Garrett Community College and a former employee of IBM, Bausch and Lomb and ABL. She was a member of Rocky Drean Assembly of God, Oakland, MD. She loved camping with the family and boat rides on the lake, making crafts, and crocheting. Her whole life revolved around teaching Sunday School and she enjoyed having children around. Her great spirit and her wonderful smile was something we admired and we will miss her dearly. 

Delane is survived by her daughter: Phyllis Lewis and husband James; and her sons: John Donaldson and wife Bethany; and Mike Donaldson. She also leaves behind her sister, Evelyn Marsh; her brothers: Ray Hefner and wife Linda; and Jim Masters and wife Tammy; her grandchildren: Justin Glotfelty, Cody Lewis, Zakary Donaldson, Dakota Donaldson, Skyler Donaldson, Isabella Donaldson, and Chad Donaldson; and her great-grandchildren: Lily Glotfelty and Jason Friend; as well as numerous nieces and nephews, whom she loved. A few special people in Delane's life were: Lisa Taylor and daughters, April and Laci, and Amanda Gieger, she loved them so much and they showed her how special she was to them. 

Friends will be received at Adams Family Funeral Home, P.A., 404 Decatur Street, Cumberland, MD on Friday, March 2, 2018 from 2:00 P.M.to 4:00 P.M. and from 6:00 P.M. to 8:00 P.M. 

A funeral service will be conducted at Rocky Drean Assembly of God, 883 Bray School Road, Oakland, MD 21550 on Saturday, March 3, 2018 at 12:00 Noon with Pastor William C. Skipper officiating. The family will receive friends one hour prior to the service. 

Interment will be in Friend Cemetery, Oakland, MD. 

Our family wishes to give special thanks to Amy and Jonathan Paul, Dyana and Jared, her caretakers, and whom shared their home, making her a part of their family. A special thank you for opening your home to our family to come visit her at any time.
Previous Events
Visitation
Adams Family Funeral Home
404 Decatur Street
Cumberland, MD 21502
Visitation
Adams Family Funeral Home
404 Decatur Street
Cumberland, MD 21502
Visitation
Rocky Drean Assembly of God Church
883 Bray School Road
Oakland, Maryland 21550
Funeral Service
Rocky Drean Assembly of God Church
883 Bray School Road
Oakland, Maryland 21550