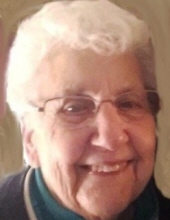 Obituary for Mary Ursula (Nies) Koelker
Cumberland, MD – Mary Ursula (Nies) Koelker, 88, of Cumberland, MD, passed away Tuesday, February 20, 2018, at the Western Maryland Regional Medical Center. 

Born May 2, 1929, in Cumberland, MD, Mrs. Koelker was the daughter of the late Mary Ethel (Wigger) Nies. She was also preceded in death by her husband: Robert W. Koelker, Sr., two brothers: Ray and "Teeney" Nies, and was the last surviving member of her immediate family. 

Mary retired from the G.C. Murphy Company with over 30 years of service. She was a member of Saint Patrick's Catholic Church.  Mary loved watching Maryland basketball, the Pittsburgh Steelers, and Dancing with the Stars.  She enjoyed crocheting blankets for her grandchildren.  Mary volunteered at South Penn Elementary School where she was known as "Grandma Koelker."  She was a big-time flower gardener and Mary never met a stranger.  She also loved Caporale's Bread, hoagies, and making potato candy for everyone. 
Mary is survived by her sons: Robert "Bobby" Koelker, Jr., and wife, Tracy; and Terrance L. Koelker; and her daughters: Kathryn Sue Darr and husband, Danny; and Kimberly Dawn Stafford and husband, Joe, all of Cumberland, MD. She also leaves behind her grandchildren: Eric, Dylan, and Zachary Koelker; Tara Hott; Krista Twigg; Adeana Hedgepeth; Keshia and Joseph Stafford; and her great grandchildren: Remington, Graison, Kennedy, Leon, Collin, Zane, Jaret, Trevor, Nathan Twigg; Addy and Cameron.  Mary also leaves behind a special niece and nephew: Joey and Joy Koelker; her special friends: Nickie Shinholt, Carol, Phyllis, and Billie; as well as numerous nieces, nephews, and cousins. 

Friends will be received at the Adams Family Funeral Home, P.A., 404 Decatur Street, Cumberland, MD, on Sunday, February 25, 2018, from 2:00 P.M. to 4:00 P.M., and from 6:00 P.M. to 8:00 P.M. 

A funeral service will be conducted at the funeral home on Monday, February 26, 2018, at 11:00 A.M., with Deacon Dave Conley officiating. 

Interment will be in the Maryland Veterans Cemetery at Rocky Gap on Tuesday, February 27, 2018, at 10:00 A.M., with Deacon Dave Conley officiating.
Previous Events
Visitation
Adams Family Funeral Home
404 Decatur Street
Cumberland, MD 21502
Visitation
Adams Family Funeral Home
404 Decatur Street
Cumberland, MD 21502
Funeral Service
Adams Family Funeral Home
404 Decatur Street
Cumberland, MD 21502