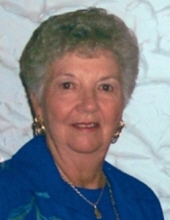 Obituary for Josephine (Berg) Davis
Cumberland, MD – Josephine (Berg) Davis, 93, of Cumberland, MD, passed away Saturday, February 17, 2018, at Allegany Health, Nursing, and Rehabilitation Center. 

Born June 21, 1924, in Petersburg, WV, Mrs. Davis was the daughter of the late Joseph Blaine Berg and Bessie (Brown) Berg. She was also preceded in death by her husband of 68 years: J.D. Davis; her sisters: Viola Placka-Martin and Hattie Shirley; and was the last surviving member of her immediate family. 

Josephine met her husband, J.D., during World War II, in Baltimore, MD, working at the Glen L. Martin Factory. Later, they moved to Cumberland, MD, where Josephine worked at the Kelly-Springfield Tire and Rubber Company, Allegany Instrument Company on Wills Mountain, and as a Hostess at the Cumberland Holiday Inn.  Josephine and J.D. retired to Vero Beach, FL, for 26 years and had a happy retirement.  She then worked part-time at a dress shop in Vero Beach, which her husband, J.D., said was a mistake because when her payday came around, she usually owed the dress shop money for clothes that she had bought "on sale."   

Josephine is survived by her son: Gerald "Bones" Davis and wife, Beth, Cumberland, MD; her grandsons: Brian Davis, Myrtle Beach, SC; and Kevin Davis, West Palm Beach, FL: and her great grandson: Tyler Davis, Cumberland, MD.  

Services will be private and interment will be in Sunset Memorial Park at a later date. 

The family would like to thank Allegany Health, Nursing, and Rehabilitation Center and Reverend Bernadette Ross for the great care and compassion given to Josephine, as well as to Bill and Amy Boyer and their family at Chic-fil-A in the Country Club Mall, City Lights and Mark's Café, for being her extended family.