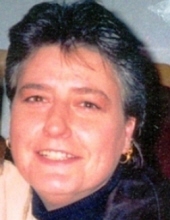 Obituary for Violet Iona "Bug" Yokum
Cumberland, MD – Violet Iona "Bug" Yokum, 55, of Cumberland, MD, passed away Wednesday, February 7, 2018, at her home. 

Born August 6, 1962, in Montgomery County, MD, Mrs. Yokum was the daughter of William Lee Moyer, Sr., Flintstone, MD, and the late Helen (Milor) Moyer. 

Bug was formerly employed at the Queen City Creamery. She is survived by her daughter: Marlina "Marcy" Zembower and husband, Jeff, Bedford, PA; and her granddaughter: McKenzie Grace Zembower.  She also leaves behind her brothers and sisters: William Lee Moyer, Jr.; Anita Marie Whorton; Ronald "Ron" Moyer and wife, Sheree; Gregory A. Moyer and wife, Judith; Andrew D. Moyer and significant other, Terri; and Angela Fishel and husband, Brian; as well as numerous nieces and nephews. 

There will be a private family service held at a later date.