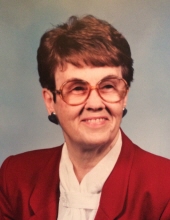 Obituary for Mary Juanita Fix
LaVale, MD – Mary Juanita Fix, 94, of LaVale, MD, passed away Sunday evening, February 4, 2018, at the Goodwill Retirement Community, Grantsville, MD. 

Juanita was born in Lexington, VA, on May 12, 1923, the daughter of the late William P. and Myrtle M. (Bryant) Stanley. In 1941, Juanita married Preston C. Fix in Lexington, VA.  He passed away in 1989.  Juanita was also preceded in death by her half-sister: Minnie Alma Camden Boyd. 

Juanita was a graduate of Lexington High School in 1940. She was a member of The First Presbyterian Church in Cumberland, MD.  Juanita and Preston moved to LaVale, MD, in 1950, where she started out as a homemaker, but then went to work for the Aetna Finance Co to help allow her sons to have the opportunity to go to college.

Juanita had interests in ancient Egyptian history, archaeology, geology, and was an avid book reader. She also worked for her church, both as an employee and a volunteer.  Juanita was able to take a trip to Egypt to see the Pyramids.  She also took a trip to England, Scotland, and another trip to Prince Edward Island.  Juanita was a member of the Schoolhouse Quilters Guild for many years and produced many quilts that are left as treasured items for her family.  She was a fan of P. Buckley Moss's paintings and in her younger years rooted for the Pittsburgh Pirates.  She was able to live independently until May of 2016.

Juanita is survived by three sons: Preston T. Fix, Ruffin, NC; David C. Fix (Jo), Centre Hall, PA; and Robert L. Fix (Gerry), Hagerstown, MD. She also leaves behind two brothers: Charles William Stanley, Highland Park, NJ; and Joseph Clarence Stanley (Dolores), Tucson, AZ.  Juanita is also survived by her grandchildren: Karen Fix Rice (Daniel), Greensboro, NC; Lisa Arnold Haggard (Butch), LaVale, MD; and Lisa's half-brother and sister: Jason and Erica, Teresa Fix Hogancamp (Brian); Ruffin, NC; Anne Fix Sherwood, Dothan, AL; Thomas Fix, Eden, NC; Frank Fix (Tammy), Eden, NC; Margaret Fix Williams (Kent), Reidsville, NC; John Fix (Lorie), Greensboro, NC.  Also surviving are two nieces: Carol R. Brown and Marion Fix; a nephew; John Fix; a sister-in-law: Helen Fix, Victorville, CA; and two great grandchildren: Graeme and Ada Rice. 

In lieu of flowers, memorial gifts may be made to the First Presbyterian Church, 11 Washington Street, Cumberland, MD 21502, in support of the Dakota Learning Camp or to Hospice of Garrett County, Post Office Box 271, Oakland, MD 21550. 

A memorial service will be held at the First Presbyterian Church, 11 Washington Street, Cumberland, on Wednesday, March 14, 2018, at 11:00 A.M. 

A private burial will take place this week, followed by a memorial service at the church at a later date.
Previous Events
Memorial Service
First Presbyterian Church
11 Washington Street
Cumberland, Maryland 21502