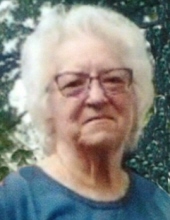 Obituary for Mary Yvonne "Vonnie" Mallow
Flintstone, MD – On Monday evening, January 29, 2018, Mary Yvonne "Vonnie" Mallow, 82, "Mom" to her kids, "Nan" to her grandchildren, and Vonnie to her friends, of Flintstone, MD, went to be with our Lord.  A piece of our hearts went with her. 

Born May 11, 1935, in Chaneysville, PA, Mrs. Mallow was the daughter of the late Albert Roy Kifer and Mary Blanche (Bartholow) Kifer. She was also preceded in death by her husband: Richard Mallow, 2006; an infant son: Richard David Mallow: a son: Steven Kirk Mallow; three brothers: Ernest Earl, Albert Roy, Jr., and Herbert Paul Kifer; and was the last surviving member of her immediate family. 

A dedicated mother and homemaker, Vonnie was a member of the Memorial Heights Baptist Church. She never knew a stranger and could strike up a friendly conversation with just about anyone, but her family always came first.  There were so many times throughout her life that Vonnie scrimped and saved or did without so that those of us in her family could enjoy a better life or have a special gift.  We could not have had a better mother or grandmother.  Vonnie taught us that the true treasures on this earth are those that can be shared with and enjoyed with those that you love.  Vonnie has "run the good race" and "fought the good fight" always with heaven as her goal for us all.  She is no doubt looking down from Heaven at this very minute with love and affection for us.  I have no doubt that it is a wonderful reunion for mom to be with those family members and loved ones who have passed before.  Having always trusted in the Almighty for her blessings and guidance, I am sure that she is walking the streets of gold with those loved ones who have gone before and they are preparing a mansion in glory where we will all be together again some sweet day.  At that time, we will once again share and enjoy another of her special gifts, meant for us all, but always prepared for her family first. 

Vonnie is survived by her daughter: Judy Ann Anderson, Flintstone, MD; and her son: Philip Wayne Mallow and wife, Pamela Ray, Fairmont, WV; and her grandchildren: Troy Allen Anderson and wife, Melissa; Richard Matthew Mallow; Philip Wayne Mallow, Jr.; and Laken Shae Mallow. She also leaves behind her great grandchildren: Brody Allen Anderson, Gabriel Barnes Mallow; Paige Madison Mallow, Alexis Mallow, Logan Tyler Robinette, and Brystol Shaeann Ray. 

Friends will be received at the Adams Family Funeral Home, P.A., 404 Decatur Street, Cumberland, MD, on Thursday, February 1, 2018, from 2:00 P.M. to 4:00 P.M., and from 6:00 P.M. to 8:00 P.M. 

A funeral service will be conducted at the funeral home on Friday, February 2, 2018, at 11:00 A.M., with Pastor Denny Michael officiating. 

Interment will be in Sunset Memorial Park. 

Pallbearers will be Phil Mallow, Matt Mallow, Troy Anderson, Brody Anderson, Ron Kifer, and Ron Kifer, Jr.
Previous Events
Visitation
Adams Family Funeral Home
404 Decatur Street
Cumberland, MD 21502
Visitation
Adams Family Funeral Home
404 Decatur Street
Cumberland, MD 21502
Funeral Service
Adams Family Funeral Home
404 Decatur Street
Cumberland, MD 21502