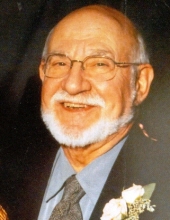 Obituary for Anthony "Tony" Michael Lo Giudice
Cumberland, MD – Anthony "Tony" Michael Lo Giudice, 85, of Cumberland, MD, passed away Friday, December 29, 2017, at the Western Maryland Regional Medical Center. 

Tony was born in Newark, NJ, on June 27, 1932. Surviving are his wife of 36 years: Dr. Maureen Connelly; and his four daughters: Karen Ruch; Kelly Lo Giudice and husband, Scott Youmans; Dr. Kim Lo Giudice; and, Kristi Lo Giudice.  In addition, he is survived by his older sister: Yolanda Capasso; his niece: Ursula Tartaglia and her son Joseph; his sister-in-law: Carol Lo Giudice; and his nephew: Louis Capasso.  Tony viewed Yolanda as his second mother and was grateful for the role she played in his childhood. 

Tony's life-long work was in higher education. It started with his pursuing an undergraduate degree at Princeton University and he was proud to have scholarships to fund his Ivy League experience.  He studied Clinical Psychology at Penn State University, earned his doctorate, and began teaching at Lehigh University and Moravian College.  In 1976, he moved to Maryland and began teaching at Frostburg State College.  He met his wife Maureen at a faculty meeting.  He was awarded Emeritus status when he retired from Frostburg State University.   

Tony taught courses primarily in Frostburg's graduate counseling psychology program and developed the undergraduate internship. Students saw him as demanding the best of them and being masterful in his presentation of various theories and techniques.  Tony had many passions.  He was a voracious reader and his tastes ranged from speculative fiction to history and philosophy.  His travels always included visits to bookstores to search for some desired book.  He was an avid fan of Penn State football and the New York Yankees.  He will miss seeing how Stanton contributes to the Yankees this season.  His devotion to animals was touching.  For Tony, no house was a home without a couple of cats.  He is survived by his cats Tigger, Smoke, and his dog Rikki. 

He lived with Alzheimer's for more than eight years. He was fortunate to spend the last 6 months of his life residing at Rest Assured in Meyersdale, PA.  One cannot find a better care facility for the staff of Rest Assured are extraordinarily caring and patient. 

A celebration of Tony's life will be held on the Frostburg State University Campus early Spring 2018. 

In lieu of flowers, the family requests that contributions be made to the Frostburg State University Foundation, Inc., 101 Braddock Rd., and Frostburg MD 21532 in his memory for the Anthony M. Lo Giudice scholarship.