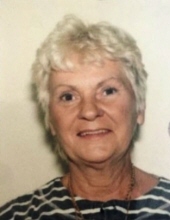 Obituary for Deborah Louise Hollenbach
Carpendale, WV - Deborah Louise Hollenbach, 89, of Carpendale, WV, slipped through the surly bonds of earth on November 19, 2017.

'Debbie,' as she was known to her friends and family, was one of a kind.  They broke the mold when they made her and there were two things you could count on every time you came across Debbie: 1. Her hair was freshly cut, colored, permed, and styled, and, 2. Her nails were always painted in the most popular shade.  And yes, you better bet, she had a fresh perm and painted nails when she passed away at home with her grandson, Darrin, at her bedside. 

Debbie was one of the hardest working women you will have ever met. After having worked at the Celanese Fibers Corporation of America, The Book Center downtown, and Biederlack Blanket, just to name a few, Debbie retired.  In her retirement, she was able to travel extensively visiting family in Arizona and exploring new cultures in Singapore, New Zealand, and Australia. 

Among her family who have gone before her and await her celestial crossing are her mother: Edna May Hersh; her beloved father: Theodore Harry Bugg; and her husbands: Delbert "Shinny" Lynwood Steckman and Captain William Thomas Hollenbach, U.S. Navy Retired. She leaves behind her greatest accomplishments, her daughters: Billie Mae Kershner,  Cumberland, MD; and, Kathy Eileen Marchitto, Tustin, CA; and her son: Delbert 'Pete' Steckman, Carpendale, WV; as well as six grandchildren and 11 great-grandchildren.