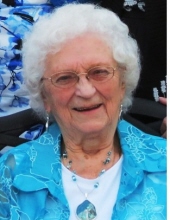 Obituary for Mary Madeline (Elder) Heflin
Bedford, PA – Mary Madeline (Elder) Heflin, 88, of Bedford, PA, passed away Monday, November 27, 2017, at the Western Maryland Regional Medical Center. 

Born May 24, 1929, in Maryland, Mrs. Heflin was the daughter of the late James Leo Elder and Mabel Lloyd (Briggs) Elder. She was also preceded in death by her brothers: James, Linwood, and Alton Elder; her sisters: Ella Hawkins and Pauline McGowan; and infant sister and brother: Rosalee and Alfred; a son-in-law: Gene Yoho, Jr.; and was the last surviving member of her immediate family.  

Madeline attended Saint Martin's Catholic School in Gaithersburg, MD, graduated from Richard Montgomery High School in Rockville, MD, and was an Administrative Assistant for the Montgomery County Health Department where she retired in 1977. She was a member of Saint Paul's Catholic Church in Damascus, MD.  Madeline loved bowling, knitting, and quilting.  She was a great mother and cook for her family, always keeping up on her reading and politics.  Madeline loved dancing especially the Jitterbug. 

Madeline is survived by her husband of 68 years: Gene Gibson Heflin; her children: Marla Yoho, Damascus, MD; Arlene Heflin, Frederick, MD; Gary Heflin and wife, Dolores, Gaithersburg, MD; Donna Gordy and husband, Mark, Eldersburg, MD; as well as 12 grandchildren and numerous great grandchildren. 

A celebration of Madeline's life will be held at a later date.

The fmaily requests that memorial contributions be made to the charity of their choice.