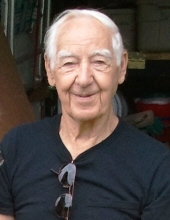 Obituary for Kyle Richard Diehl
Cumberland, MD – Kyle Richard Diehl, of Cumberland, MD, passed away Monday night, September 25, 2017, with family members beside him.

Born September 3, 1924, in Ridgeley, WV, Mr. Diehl was the son of the late Henry Levi Diehl and Laura Belle (Fisher) Diehl-Bagley. He was also preceded in death by his wife: Grace Rosetta (Sensabaugh) Diehl, July 25, 2012, and was the last surviving member of his immediate family.

Kyle was not the most studious student and skipped school a lot. He would help deliver milk by horse and wagon to the Mount Savage area. He knew the projectionist at the Strand Theater and would spend a lot of time there. He actually walked out of there and into an anguished crowd to learn of the Pearl Harbor disaster. Kyle joined the United States Navy at 17 years old and arrived in Pearl Harbor just 10 months later as a 20mm Gunner on the Starboard side of the Battleship BB-58 USS Indiana. While at sea for 3-1/2 years, his ship received nine battle stars for combat operation at Marcus Islands, Gilbert Islands, Marshal Islands, Trul Atoll, Mariana Islands, the Philippines, Iwo Jima, Saipan, and Okinawa, to name a few.

After the war, Kyle was one lucky guy and married the love of his life, Grace Sensabaugh. He became a brick and block mason, and had four sons: Ernest, Larry, James, and Roy, and, of course, has many grandchildren and great grandchildren. On a side note, Kyle quit smoking, saved his money in a paper sack, and when it was filled, purchased a boat, and taught his four sons to water ski at Deep Creek Lake. The Board of Education came chasing and wanted him to teach the art of masonry at VoTech. So back to school he went and got his teaching credentials. Along the way, he learned to play the bagpipes and created the Highlanders at the Shrine Club. As Clan Chieftain, this group played and marched at many events and had the fun of their lives. It was not uncommon for them to march into friendly bars and play to see if they could get a free beer. Kyle bought a motor home and became a snowbird to Florida many times. He toured the entire United States, restored an old 1937 Ford Model A, and was an unofficial member of the unofficial breakfast club at Kline's and always had lunch at Arby's. He was a member of the Queen City Lodge #131 A.F.&A.M., for fifty years.

Friends will be received at the Adams Family Funeral Home, P.A., 404 Decatur Street, Cumberland, MD, on Thursday, September 28, 2017, from 5:00 P.M. to 8:00 P.M. The Queen City Lodge #131 A.F.&A.M. will conduct a service at 7:00 P.M.

A funeral service will be conducted at the funeral home on Friday, September 29, 2017, at 11:00 A.M., with Reverend Dan Taylor officiating. The family will also receive friends one hour prior to the service.

Interment will be in the Maryland Veterans Cemetery at Rocky Gap with his wife.

Military honors will be accorded at the cemetery by the Post #13 Veterans Honor Guard.

In lieu of flowers, the family requests that memorial contributions be made the Ali Ghan Shrine Transportation Fund, c/o: Ali Ghan Temple, Post Office Box #1416, Cumberland, MD 21501-1416.

The family would like to thank the WMHS Home Hospice, Procare, the Veterans Administration, Amit Bhandari, M.D., Aman Dalal, M.D., Dr. Vasil Parousis, and Raj Katta for all the care, compassion, and concern.

He lived for 93 years, had a good life, and saw the world.
Previous Events
Visitation
Adams Family Funeral Home
404 Decatur Street
Cumberland, MD 21502
Funeral Service
Adams Family Funeral Home
404 Decatur Street
Cumberland, MD 21502