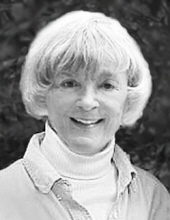 Obituary for June Anne (Rilling) Johnston
Cumberland, MD – June Anne and twin sister, Joan, were born to William Sullivan Rilling and Marguerite "Rita" Holahan Rilling in Cumberland, Maryland during a snow storm on January 8, 1926. The twins grew up in the Union Grove area of Bedford Road, but June spent most of her adult life in Texas, and Louisiana. Coming full circle, she returned to her hometown in Western Maryland to spend her last months before passing away on Sept 25th, 2017. A devout Roman Catholic, June was a member of The Franciscans/St. Anthony Guild, and received her last rights from St. Patrick's Catholic Church - the same church where she was baptized, confirmed and married.

The twins graduated from Allegany High School in 1943, where June participated in girls' basketball, 4-H, and Hi-Y. She was an accomplished tennis player, won several city tournaments (singles and doubles), and was frequently seen at the Garlitz Courts. The old courts at The Dingle, and later at the Cumberland Country Club, were also witness to many good matches.

As a young adult, June worked at the Office of Unemployment Services in Cumberland. Still in her 20s, she moved to Corpus Christi, Texas, and worked in the law offices of Crutchfield & Prewitt before marrying a young geologist, Robert Daniel Johnston, in 1951. The couple raised their three girls along the Texas gulf coasts of Corpus Christi and Houston, before finally relocating to Covington, Louisiana for 40+ years. There, June remained active in recreational tennis, continued to be successful in tournament competition, and taught tennis at The Covington Country Club.

June loved to travel and made repeated overseas trips, including two pilgrimages to Medjugorje. She also enjoyed reading, gardening, and was an avid Chinese Checkers player. In her 60s she became a Neil Diamond Enthusiast, and made up for lost time by attending over two dozen concerts from Baton Rouge to Madison Square Garden. (Her photo appears in his 1993 Christmas Tour program.) Her dear friends will also fondly recall June's annual Christmas Parties and the many Patio Luncheons she loved to host. "Margarita anyone?"

June was preceded in death by her loving husband and parents; twin sister Joan F. Jones (Colorado); and older brother and sister, Hugh Phillip Rilling (North Carolina) and Hope Bludworth (Texas). She is survived by three daughters; Joan Rilling Johnston of Cumberland (fiance Jan Siehler); Melanie Marie Johnston of Ocean Springs, MS; and Leslie Johnston Boudreaux of New Orleans, LA (husband Brian). In 1991 June and Bob became grandparents, and thereafter were known by all as "Noonie and Pops". Their two grandchildren were the delight of their lives: Brandon Michael Boudreaux (wife Rebecca Coady), and Robert Daniel Boudreaux - both of New Orleans.

Noonie now serves "match points" on a heavenly rubico tennis court, followed by a quick dip with her twin sister in "the old swimming hole" of their youth, or maybe a "safari" down Evitts Creek from Ruthella's house. No doubt, there will also be long strolls on Sandestin and Padre Island beaches, and walks along Lake Erie's shoreline where the twins spent their summers as young girls. Pops will join her later, to watch a Yankees, Orioles, or Tulane baseball game from truly celestial "sky box" seats.

"Every day will be Sunday, by and by." Services are pending, but will be held in late October in Louisiana. June would prefer you take a flower to the home of a friend - and then, if you wish, send a donation to your favorite charity in her memory.
Events
Event Information
Services will be set for a future date to be determined.