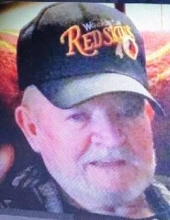 Obituary for Ernest 'Pops' Gordon Holbrook
Flintstone, MD – Ernest "Pops" Gordon Holbrook, 73, of Flintstone, MD, passed away Saturday, September 9, 2017, at the Western Maryland Regional Medical Center.
 
Born August 1, 1944, in Seco, KY, Mr. Holbrook was the son of the late James Ernest Holbrook and Melva Lee (Mauk) Holbrook.  He was also preceded in death by two brothers: Norman and Torrence Holbrook.
 
Ernest was formerly employed with CPA Plumbing and Hildrup Moving Company.  He was an avid hunter, fisherman, and Washington Redskins fan. 
 
Ernest is survived by his wife of 54 years: Sharon (Peer) Holbrook; two sons: Ernest G. Holbrook, II, Flintstone, MD; and Michael W. Holbrook and wife, Tiffany, Triangle, VA.  He is also survived by his grandchildren: Amber Perez, Fredericksburg, VA; Jackson Holbrook, Triangle, VA; his two great grandchildren: Kennis and Kenaz Perez; and a special sister-in-law: Jerri Wolford and husband, Chick, Flintstone, MD; as well as numerous nieces and nephews.
 
No services are planned at this time.
 
The family would like to give a special thanks to Lisa Jenkins, CRNP at Braddock Medical Group for all the care and compassion given. 
 
The Adams Family Funeral Home, P.A., 404 Decatur Street, Cumberland, MD,  is in charge of the arrangements.